Boston Wedding Photographer 5 Star Review
"Tracy was truly outstanding in every way. She is exceptionally talented, friendly, and professional. It was a pleasure having her at our wedding."
Read more wedding reviews: https://www.weddingwire.com/reviews/tracy-rodriguez-photography-dedham/12cfbf88af99fba1.html
Boston Wedding Photographer 5 Star Review for Tracy Rodriguez Photography
"Tracy photographed our wedding on August 6th at The Towers in Narragansett. She was my absolute favorite wedding vendor. At our first meeting I had to bring my son, and her husband played video games with him the whole time so we could chat. She is so talented. Our engagement shoot was an absolute blast, she made it so fun for us and you can really tell in the pictures. All of our photographs from our wedding came out beautifully too. Some of my favorite shots from the wedding I didn't even know she was taking. What sets her aside from other great photographers is her great personality. She is so friendly and personable, which makes you feel so comfortable in front of the camera. She is also always up for having a little fun to get great shots. I would recommend her to anyone, our wedding would not have been the same without her there! xoxo Erin Troy"
Read more: https://www.weddingwire.com/biz/tracy-rodriguez-photography-dedham/12cfbf88af99fba1.html
Boston Wedding Photographer 5 Star Review
"Our first impression of Tracy was solidified during our engagement photo shoot. Tracy possesses astute attention to detail and love for her chosen profession. She is open to suggestions and ideas, yet always professional and focused. Her enthusiasm and playful attitude put us at ease and we were more than pleased with our beautiful photos. With the engagement photo shoot complete, we had no anxiety about Tracy's ability to capture the best moments of our wedding day. She's never short on ideas and her passion for photography is evident in her portfolios."
Read more reviews: weddingwire.com/biz/tracy-rodriguez-photography-dedham/12cfbf88af99fba1.html
5 Start Wedding Review - Boston Wedding Photographer
"Tracy is an extremely professional, accommodating, sweet, and TALENTED photographer. We originally discovered Tracy through her instragram profile and decided to meet with her to consider booking her for our engagement/wedding photography. After meeting Tracy we decided to book her on the spot, knowing right away she was the one we wanted to photograph our day. Our first experience working with Tracy was for our engagement shoot- which we chose to have in another state at the place where we met. She was more than accommodating to our special request, and even did her research beforehand to find perfect spots to photograph us at. Our engagement photographs were delivered quickly and turned out beautifully. Our wedding photos were no different-- every photo was absolutely beautiful. All of the editing and the final presentation of the photos was top notch. On a personal level, Tracy was such a sweetheart to work with and all of our family and friends loved having her around us to photograph our special day. Tracy truly went above and beyond for us throughout the whole day. I would wholeheartedly recommend TRP to any newly engaged couple looking for a great photographer."
Read More on Wedding Wire: weddingwire.com/biz/tracy-rodriguez-photography-dedham/12cfbf88af99fba1.html
Boston Wedding Photographer 5 Star Review
"We are extremely pleased with Tracy's work! From the moment we met with her she was really professional, organized, and responsive. She was flexible in helping us select a photography option for our small wedding, walked us through the whole process, patiently answered all our questions, and was more than happy to provide suggestions for photography. Tracy is very resourceful and was more than willing to help us with anything that would help our wedding planning and final event go smoothly. For example, she suggested a nearby pier to take beautiful photos at sunset and she tracked the weather leading up to our wedding day so we could plan our portraits accordingly. She was extremely organized and provided templates to help us plan the photography during our event. Her responsiveness to email and questions was impressive.
The day of our wedding she was on time and ready to go and she was efficient with the time to capture all the photos we wanted and more. Her positive attitude, energy, and professionalism came through in her attention to all the details (fixing my necklace, a stray hair, a lapel), the way she put us and our guests at ease when she took pictures, and how she captured real, natural emotions and moments. We all felt extremely comfortable when taking pictures and she was absolutely great at capturing great portraits of our dog, babies, kids, and adults alike. With her sweet personality, she coaxed a smile and a great picture from everyone! And during the ceremony it was like she wasn't even there- she was very stealthy but captured beautiful photos!
A few days later, and ahead of schedule, Tracy had our photographs ready- they were amazing, beautiful, of the highest quality, and captured all the moments we wanted and much more. We could probably go on and on with our review, but bottom line is that Tracy is amazing and we highly recommend her. Thanks Tracy!"
Read more wedding reviews: https://www.weddingwire.com/biz/tracy-rodriguez-photography-dedham/12cfbf88af99fba1.html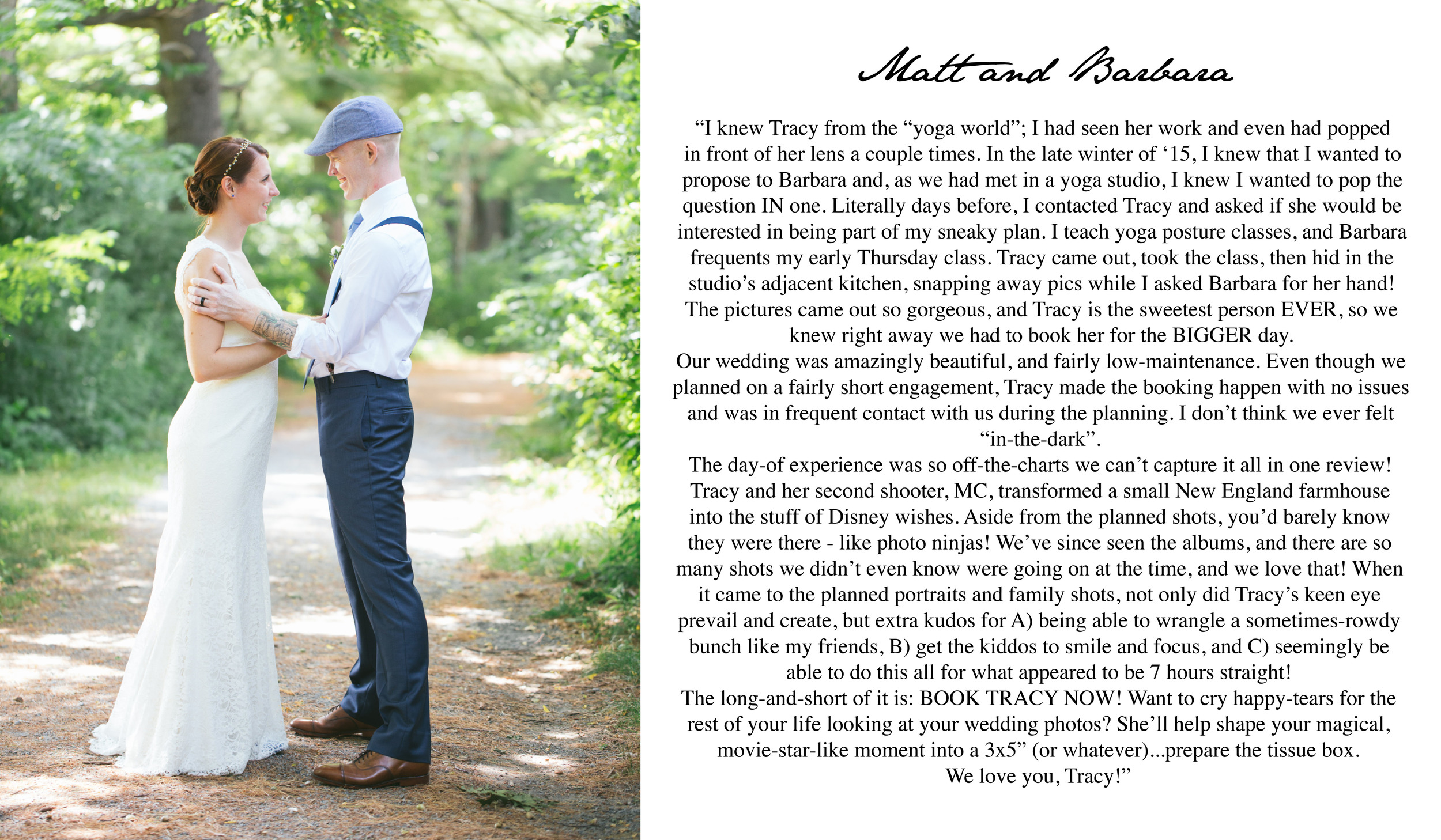 Boston Wedding Photographer Review
"I knew Tracy from the "yoga world"; I had seen her work and even had popped in front of her lens a couple times. In the late winter of '15, I knew that I wanted to propose to Barbara and, as we had met in a yoga studio, I knew I wanted to pop the question IN one. Literally days before, I contacted Tracy and asked if she would be interested in being part of my sneaky plan. I teach yoga posture classes, and Barbara frequents my early Thursday class. Tracy came out, took the class, then hid in the studio's adjacent kitchen, snapping away pics while I asked Barbara for her hand! The pictures came out so gorgeous, and Tracy is the sweetest person EVER, so we knew right away we had to book her for the BIGGER day.
Our wedding was amazingly beautiful, and fairly low-maintenance. Even though we planned on a fairly short engagement, Tracy made the booking happen with no issues and was in frequent contact with us during the planning. I don't think we ever felt "in-the-dark".
The day-of experience was so off-the-charts we can't capture it all in one review! Tracy and her second shooter, MC, transformed a small New England farmhouse into the stuff of Disney wishes. Aside from the planned shots, you'd barely know they were there - like photo ninjas! We've since seen the albums, and there are so many shots we didn't even know were going on at the time, and we love that! When it came to the planned portraits and family shots, not only did Tracy's keen eye prevail and create, but extra kudos for A) being able to wrangle a sometimes-rowdy bunch like my friends, B) get the kiddos to smile and focus, and C) seemingly be able to do this all for what appeared to be 7 hours straight!
The long-and-short of it is: BOOK TRACY NOW! Want to cry happy-tears for the rest of your life looking at your wedding photos? She'll help shape your magical, movie-star-like moment into a 3x5" (or whatever)...prepare the tissue box. We love you, Tracy!"
Boston Wedding Photographer 5 Star Review
"Choosing a photographer for a wedding can be overwhelming - Tracy Rodriguez Photography provided the ultimate experience for wedding photography all the way from our engagement photo session to our most amazing wedding day to the day we received our photos less than a month later in a great app we could share! From the moment we started working with Tracy she made everything so comfortable and fun. Tracy and MC were the utmost professional, kind people who captured every moment of our wedding day in the most amazing photos. We are so very pleased with the work and would choose them again in a second!! They went above and beyond to get the most beautiful images of the day from working in a home we just moved in that was still under renovation/unpacking to jumping on a trolley with bridal party, family and friends to making sure we got some private photos as bride and groom on the balcony at our reception. Tracy's passion for what she does truly shows in her work.
Don't be overwhelmed with the choices - Tracy Rodriguez Photography provides high quality photography at an amazing value. Thank you Tracy and MC!!"
5 Star Wedding Review - Boston Intimate Wedding Photographer
"Tracy was the absolute best photographer we could ever have. She got photos that 1) I had no idea she was capturing and 2) were amazing!"
Read more: https://www.weddingwire.com/biz/tracy-rodriguez-photography-dedham/12cfbf88af99fba1.html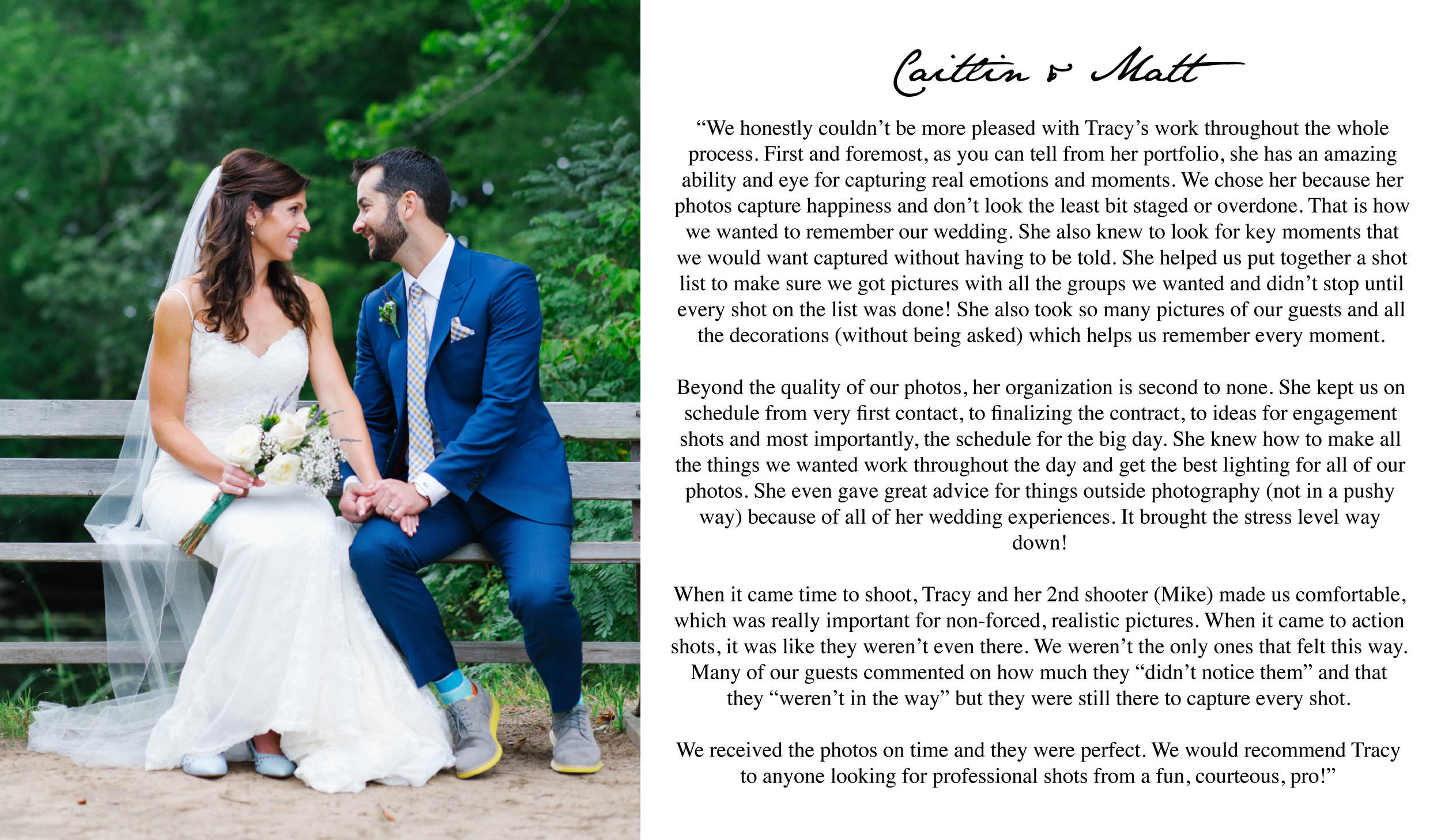 Boston Wedding Photographer 5 Star Review
"We honestly couldn't be more pleased with Tracy's work throughout the whole process. First and foremost, as you can tell from her portfolio, she has an amazing ability and eye for capturing real emotions and moments. We chose her because her photos capture happiness and don't look the least bit staged or overdone. That is how we wanted to remember our wedding. She also knew to look for key moments that we would want captured without having to be told. She helped us put together a shot list to make sure we got pictures with all the groups we wanted and didn't stop until every shot on the list was done! She also took so many pictures of our guests and all the decorations (without being asked) which helps us remember every moment.
Beyond the quality of our photos, her organization is second to none. She kept us on schedule from very first contact, to finalizing the contract, to ideas for engagement shots and most importantly, the schedule for the big day. She knew how to make all the things we wanted work throughout the day and get the best lighting for all of our photos. She even gave great advice for things outside photography (not in a pushy way) because of all of her wedding experiences. It brought the stress level way down!
When it came time to shoot, Tracy and her 2nd shooter (Mike) made us comfortable, which was really important for non-forced, realistic pictures. When it came to action shots, it was like they weren't even there. We weren't the only ones that felt this way. Many of our guests commented on how much they "didn't notice them" and that they "weren't in the way" but they were still there to capture every shot.
We received the photos on time and they were perfect. We would recommend Tracy to anyone looking for professional shots from a fun, courteous, pro!"
Read More Reviews: http://www.weddingwire.com/reviews/tracy-rodriguez-photography-dedham/12cfbf88af99fba1.html
5 Start Review for Boston Wedding Photographer Tracy Rodriguez Photography
"We love Tracy! She helped us with a quick turn around for a fall wedding. She made everything easy for a really busy bride & groom and still provided quality service. She took the time to meet with us through skype (super convenient) so we had a chance to communicate our wishes and get to know her. Payment on her website was effortless! The day of she addressed so professionally with my friends and family. She captured all of the shots we wanted and then some that I would not have thought to request. She was there but I didn't even notice that she had captured some of those great shots. Really a pleasure working with her on our wedding day. Highly recommend her service."
Read More 5 Star Reviews Directly from Wedding Wire: https://www.weddingwire.com/biz/tracy-rodriguez-photography-dedham/12cfbf88af99fba1.html
Boston Wedding Photographer 5 Star Review
"Tracy is an amazing and passionate photographer, and those qualities were evident during emails back-and-forth, our engagement shoot, and especially on our wedding day. Working with Tracy is not simply hiring a photographer, it feels more like having your good friend capturing all those little moments during your wedding day that go by in a blur. And that comfort level comes from meeting her for coffee to discuss our photography style and getting more familiar with her during our engagement shoot. By our wedding day it was our friend Tracy arriving, ready to photograph every detail, and even driving the bride in her car to our wedding venue. We could not be happier with the photos that Tracy took during our wedding day. Capturing every detail, smile, tear, and moment. To echo another reviewer…do yourself a favor and go with Tracy!"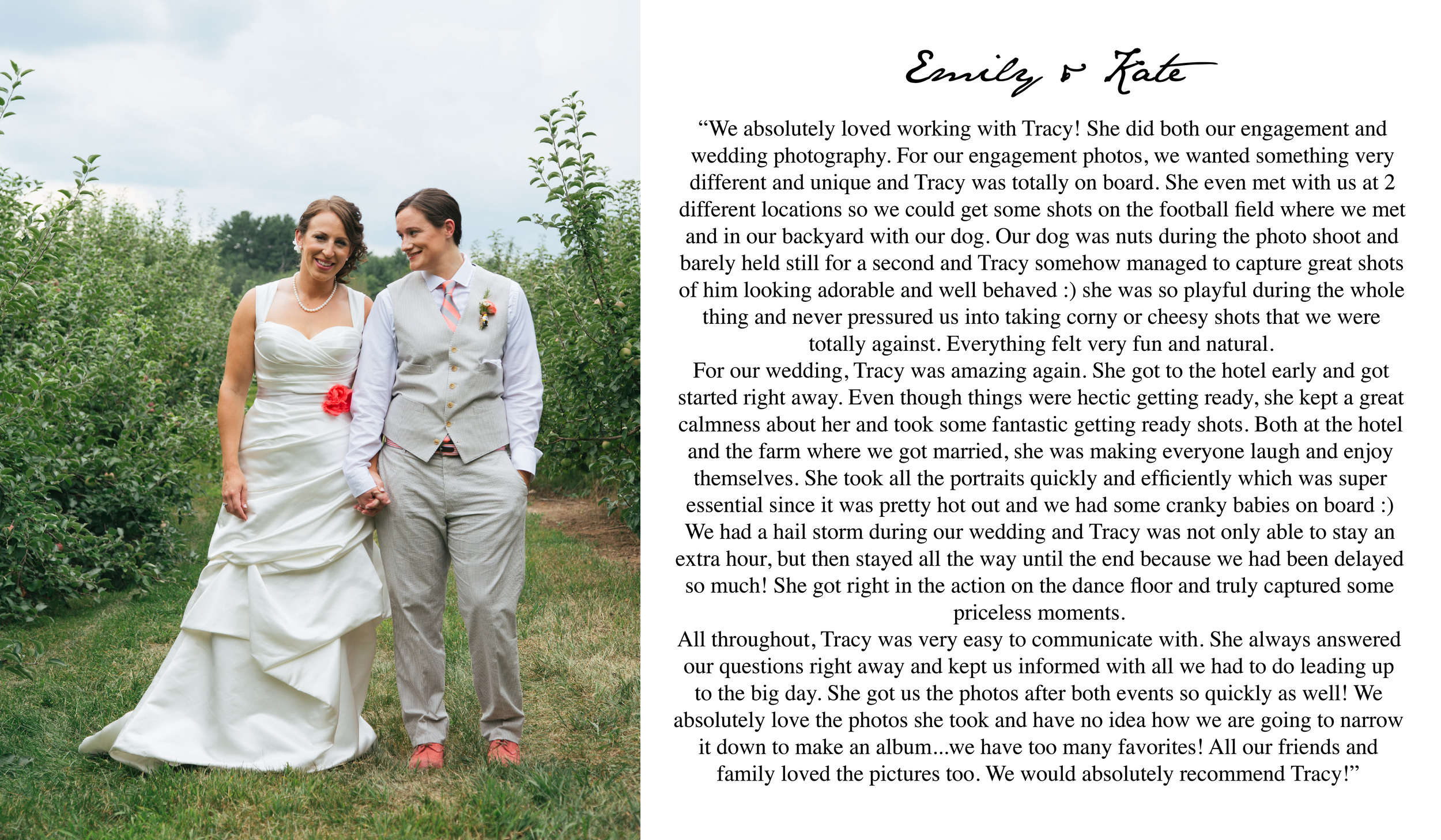 Boston Wedding Photographer 5 Star Review
"We absolutely loved working with Tracy! She did both our engagement and wedding photography. For our engagement photos, we wanted something very different and unique and Tracy was totally on board. She even met with us at 2 different locations so we could get some shots on the football field where we met and in our backyard with our dog. Our dog was nuts during the photo shoot and barely held still for a second and Tracy somehow managed to capture great shots of him looking adorable and well behaved :) she was so playful during the whole thing and never pressured us into taking corny or cheesy shots that we were totally against. Everything felt very fun and nAtural.
For our wedding, Tracy was amazing again. She got to the hotel early and got started right away. Even though things were hectic getting ready, she kept a great calmness about her and took some fantastic getting ready shots. Both at the hotel and the farm where we got married, she was making everyone laugh and enjoy themselves. She took all the portraits quickly and efficiently which was super essential since it was pretty hot out and we had some cranky babies on board :) We had a hail storm during our wedding and Tracy was not only able to stay an extra hour, but then stayed all the way until the end because we had been delayed so much! She got right in the action on the dance floor and truly captured some priceless moments.
All throughout, Tracy was very easy to communicate with. She always answered our questions right away and kept us informed with all we had to do leading up to the big day. She got us the photos after both events so quickly as well! We absolutely love the photos she took and have no idea how we are going to narrow it down to make an album...we have too many favorites! All our friends and family loved the pictures too. We would absolutely recommend Tracy!"
Boston Wedding Photographer 5 Star Review
"
We had the pleasure of having Tracy photograph our wedding this April and we could not have made a better choice. Tracy made us feel comfortable right from the beginning, she always responded promptly and was very supportive and encouraging throughout our entire planning process. During our engagement shoot Tracy really showed us how dedicated she was to her job, even laying in the snow on a freezing day, and of course the pictures turned out amazing! Tracy not only impressed us but our family and friends as well, we received so many compliments on how fun and joyful she was, and how everyone felt at ease around her. Choosing her as our photographer was one of the easiest decisions we made and I guarantee you will not be disappointed! We not only have perfect pictures of our wedding day but also feel like we have gained a friend.
Do yourself a favor and go with Tracy! :)"
Boston Wedding Photographer 5 Star Review
"
From the initial meeting with Tracy and consistently through our wedding and beyond, Tracy was the consummate professional. She listened with care to our requests and shared her expertise which really helped us envision our day. The result of this was a true capturing of our unique personalities, as well as those we love, in photos. No small task!
She is a timely, thoughtful and direct communicator with an infectious smile and she shines as an artist. This energy radiates off of her, as she is clearly doing what she loves and it shows! Lucky for us that all of this "goodness" translates into photos- images of our very favorite day that we will treasure for a lifetime."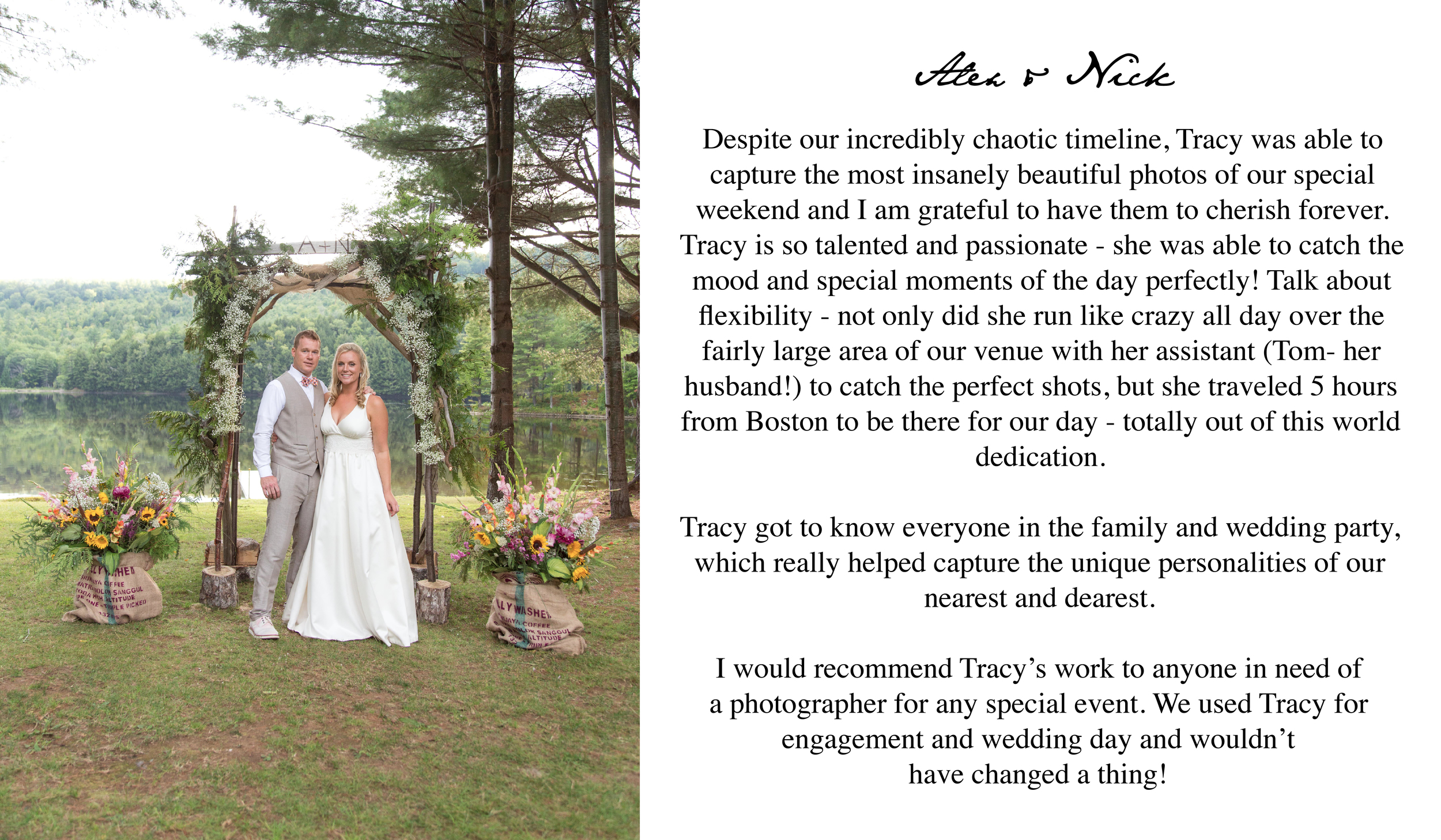 Boston Wedding Photographer 5 Star Review
"
Despite our incredibly chaotic timeline, Tracy was able to capture the most insanely beautiful photos of our special weekend and I am grateful to have them to cherish forever. Tracy is so talented and passionate - she was able to catch the mood and special moments of the day perfectly! Talk about flexibility - not only did she run like crazy all day over the fairly large area of our venue with her assistant (Tom- her husband!) to catch the perfect shots, but she traveled 5 hours from Boston to be there for our day - totally out of this world dedication.
Tracy got to know everyone in the family and wedding party, which really helped capture the unique personalities of our nearest and dearest.
I would recommend Tracy's work to anyone in need of a photographer for any special event. We used Tracy for engagement and wedding day and wouldn't have changed a thing! "
Boston Wedding Photographer 5 Star Review
"Tracy was simply amazing. She was fun to work with and did an amazing job and I am beyond pleased with my pictures. She was also great with my niece and nephew and my brother is now hoping to use her for their next family pictures."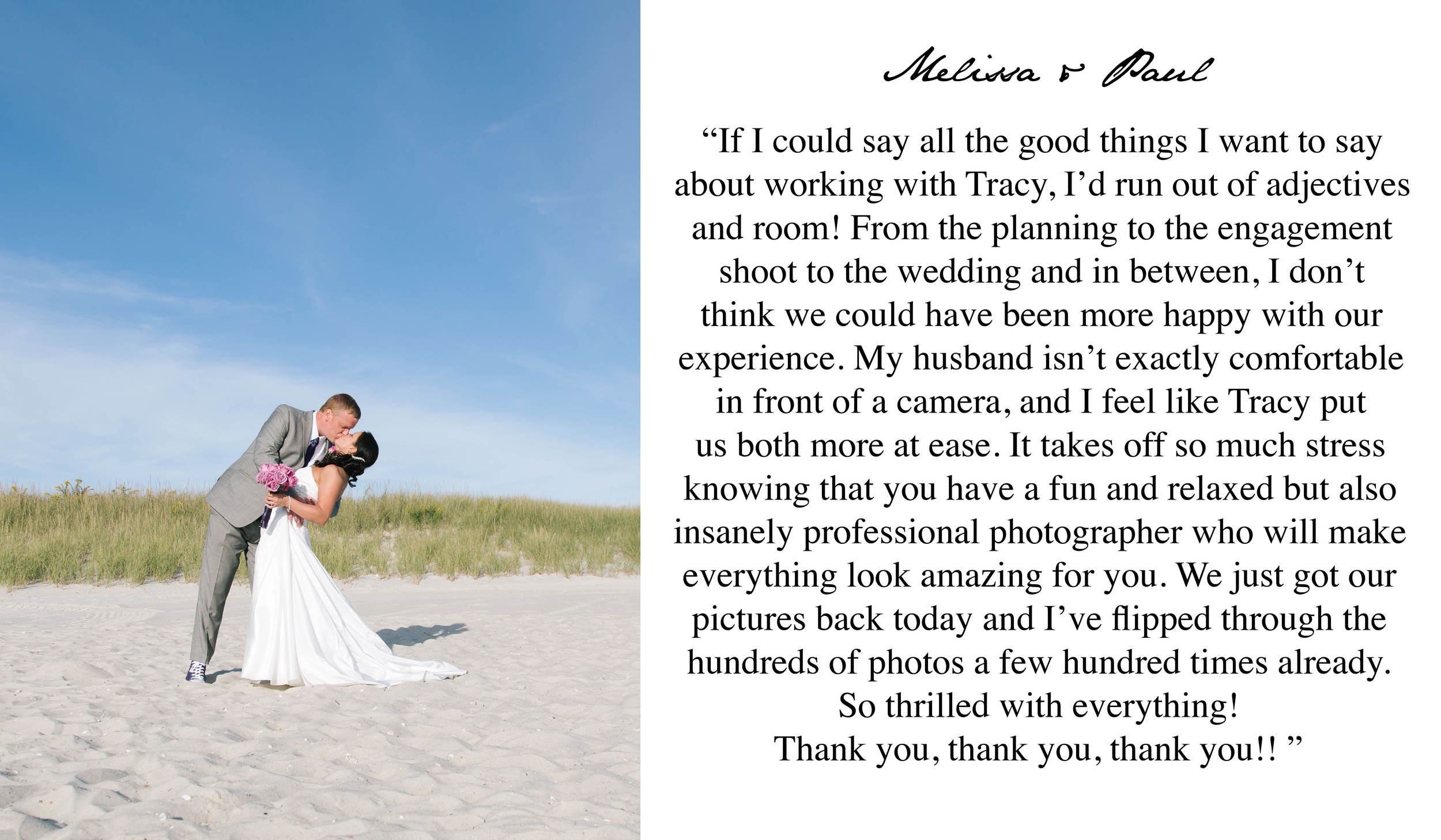 Boston Wedding Photographer 5 Star Review
"If I could say all the good things I want to say about working with Tracy, I'd run out of adjectives and room! From the planning to the engagement shoot to the wedding and in between, I don't think we could have been more happy with our experience. My husband isn't exactly comfortable in front of a camera, and I feel like Tracy put us both more at ease. It takes off so much stress knowing that you have a fun and relaxed but also insanely professional photographer who will make everything look amazing for you. We just got our pictures back today and I've flipped through the hundreds of photos a few hundred times already. So thrilled with everything! Thank you, thank you, thank you!!"
Read more 5 start wedding reviews: http://www.weddingwire.com/biz/tracy-rodriguez-photography-dedham/12cfbf88af99fba1.html
Boston Wedding Photographer 5 Star Review
"
We are so happy to have met Tracy - she is an awesome person and photographer!
She was very friendly from the get go (and who doesn't love a yoga/ animal lover?!) and was very willing to work with our budget - she even made personal packages to meet our needs! She then did a lovely job during our engagement shoot. She was never afraid to lie on the ground and get dirty, and she even brought some hand warmers for us! We were eager to see our pictures and she had them for us very, VERY, very quickly!
At the wedding, Tracy and MC (her second shooter) were very professional and happy to work with our guests however disorganized they got! They were creative and fun, and definitely quick to think on their feet! Again, after the wedding, they had such a fast turnaround of pictures - we couldn't believe it!
Tracy is an amazing and talented photographer and we feel very lucky to have found her!!! "
Boston Wedding Photographer 5 Star Review
"We met Tracy through a mutual friend that had used her services for a family photo shoot. We were looking for a wedding photographer and had never hired one before and did not really know what to expect during the process. Tracy invited us to her home for our first meeting and from the second we walked through her door, she made us feel at home. Tracy was so easy to talk to about our wedding and what we wanted out of the day. She even was the one who we modeled our wedding flowers after just because she had great ideas from her own wedding. As part of our package, we had our engagement session included. This was extremely helpful not only cost wise but it gave us an opportunity to get in front of the camera before the big day. We were extremely nervous during our engagement session but Tracy makes you feel like you are friends from your first meeting and all we did was laugh and have fun for an hour in the woods. Oh and can we talk about the results of our engagement session, AMAZING! Tracy has an eye for capturing the most incredible photos. During the time in between our engagement session and our actual wedding date, Tracy made sure to keep checking in with us, making sure we didn't need anything and making sure that we did not have any questions during the process. It was so great that during a very stressful planning process you felt like you had a friend during it all. Our wedding day came and went off without a hitch. Tracy was punctual, polite, gave great advice and documented every single perfect aspect of our day. Our photos came back quickly after our wedding and there is not one single photograph that we do not like. I would recommend Tracy Rodriguez Photography to anyone looking for a photographer. We have done three different photo shoots to date and will continue to use Tracy's services as our family continues to grow. She is not only an amazing photographer but an amazing individual."
Boston Wedding Photographer 5 Star Review
"From the first moment we started working with Tracy, we felt incredibly fortunate to have such an important aspect of our wedding day in her skilled, insightful and loving hands. I have been following Tracy's work for years, so I knew the photographs would be beautiful - but she exceeded our expectations in taking the time to really understand what we hoped to capture in both our engagement and wedding photos, making us feel completely at ease, truly sharing in our joy and making these events more special just by her presence. Again and again, our loved ones have commented on what a complete pleasure Tracy was to have with us. Always full of smiles and warmth, she clearly loves what she does and it shows. Her two assistants on the day of the wedding were wonderful as well.
Tracy was so supportive throughout our entire pre-wedding, wedding and post-wedding experience, helping us to sort out our list of must-take photos, designing a guest book using beautiful photos from our engagement session, giving us little tips that made such a big difference, and the list goes on. Her eye is incredible, and her talent is phenomenal. Tracy works with a quiet confidence, seamless intuition, and complete connection to the moment and the people she photographs. Our wedding day flew by so quickly, and it is a true treasure to have it captured with such warmth, clarity, feelingand attention to detail - so we can look back and remember all the special moments for years to come. Tracy is the whole package and more, and we couldn't have been more thrilled with our experience with Tracy Rodriguez Photography!"
Boston Wedding Photographer 5 Star Review
"Tracy was amazing! She shot beautiful pictures of our September wedding! Her and her assistant stayed late and arrived early. She was always there to answer any questions my husband and I had and open to any suggestions. I would definitely recommend her! She is very professional and affordable!"
Read More Reviews: https://www.weddingwire.com/reviews/tracy-rodriguez-photography-dedham/12cfbf88af99fba1.html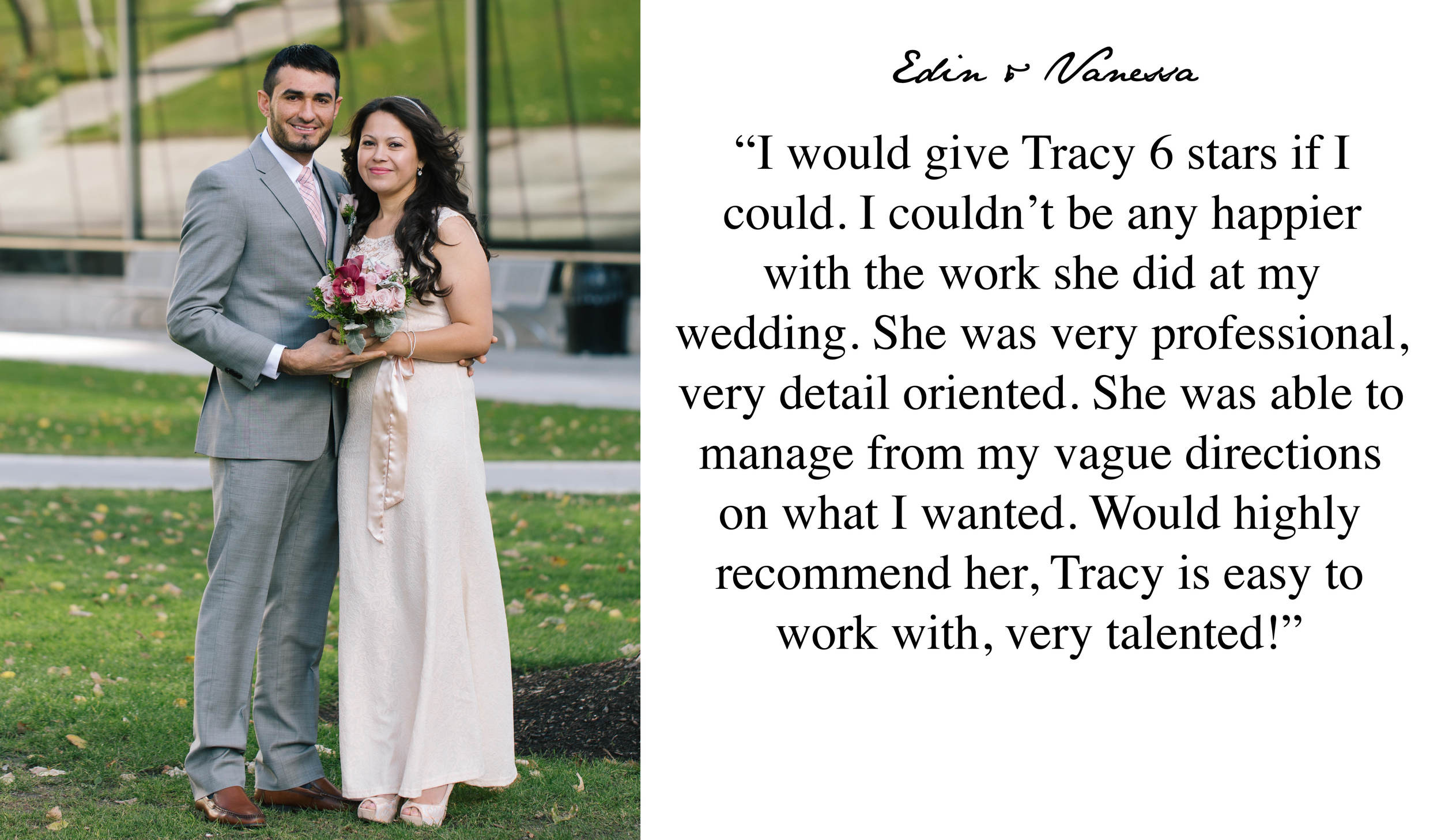 Boston Wedding Photographer 5 Star Review
I would give Tracy 6 stars if I could. I couldn't be any happier with the work she did at my wedding. She was very professional, very detail oriented. She was able to manage from my vague directions on what I wanted. Would highly recommend her, Tracy is easy to work with, very talented! Le daria a Tracy 6 estrellas si fuera posible . No podría estar más feliz con el trabajo que hizo en mi boda . Ella se orientó muy profesional, muy detallada . Ella fue capaz de gestionar desde mis instrucciones confuzas sobre lo que quería. Lo recomiendo encarecidamente ella a cualquier persona que este buscando un trabajo bueno y que mejor que para un evento tan especial que quedara marcado en sus vidas, Tracy es fácil trabajar con ella, con mucho talento ! Gracias por tu excelente trabajo!
Boston Wedding Photographer Five Star Review
"As I am a yoga instructor, I had known Tracy for her yoga work for a few years before I was engaged. I knew immediately that I had to have her as my wedding photographer as soon as my husband and I picked our wedding date and our venue! My husband got to meet Tracy for the first time at our initial consultation at a cute little cafe in Dedham. Tracy truly took the time to understand us as a couple and to craft the best possible photography package for our needs. It was truly the best vendor meeting I had and we were so excited to work with her! While I was extremely nervous during our complimentary engagement shoot included in the package we selected as I'm not used to having my picture taken, the results were amazing with Tracy capturing us at our best and really bringing out the happiness we had at just being together! On our wedding day Tracy and her second shooter were the first to greet us at the venue and immediately got to work not catching all the details with her camera but, taking the time to calm my pre-wedding bridal jitters and to help my mom zip me into my dress. It felt so great to have someone there who was completely dedicated not only to capturing every aspect of my wedding but, also making sure that I had the most beautiful day. During the ceremony and the reception Tracy and her partner were completely unnoticeable but as I saw from my photos, captured every moment of my wedding perfectly. During the day Tracy kept all of us on track and calm despite pressure from my venue to move things along and truly made our wedding day the most perfect experience. On top of all this, she edited and sent us our pictures earlier than expected giving us the best possible surprise we could of asked for. Her shots were stunning and allowed us to relive the most important day of our lives all over again, even catching the details we were a little to busy to see ourselves on the day of. My husband and I truly couldn't recommend Tracy more!"
Read more reviews on wedding wire: https://www.weddingwire.com/biz/tracy-rodriguez-photography-dedham/12cfbf88af99fba1.html
5 Star Wedding Review - Boston Wedding Photographer
Where to start? Hopefully not where to end since we love Tracy Rodriguez Photography! Tracy, along with Mike C, were 2 key members of our Wedding Squad and their energy was so positive (aka "dope!") and motivating. Dan and I had the most magical day of our lives because of Tracy and Mike.
We had followed Tracy's work for years, and loved contacting her for our only Skype video interview of a potential photographer of our wedding. She was a shoe-in and are grateful to our friends Lizzie and Robbie for introducing us. Our engagement photography session in the Christmas tree farm in early December 2015 gave us such butterflies of excitement, increased passion for our wedding and JOY in our hearts. Tracy was soooo approachable and a real team player with reasonable pricing for her top-notch services. Her personality and spirit has no price to it. On our July 16, 2016 wedding day, we met Mike and it all molded together with Tracy into the greatest celebration of our marriage! Tracy's guidance and professionalism were unparalleled compared to any photographer we have experienced! Thank you! Namaste.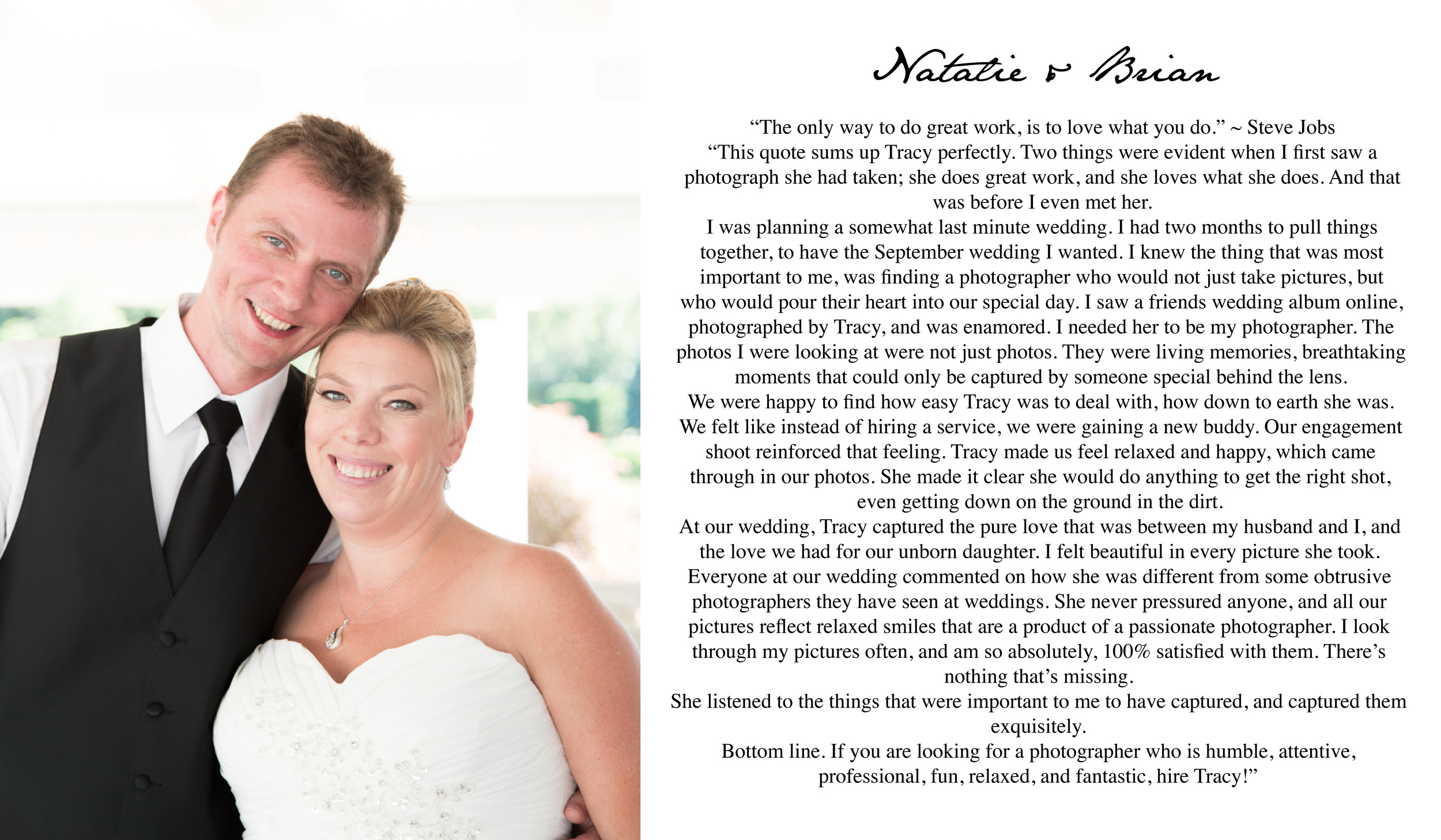 Boston Wedding Photographer 5 Star Review
""The only way to do great work, is to love what you do." ~ Steve Jobs
This quote sums up Tracy perfectly. Two things were evident when I first saw a photograph she had taken; she does great work, and she loves what she does. And that was before I even met her.
I was planning a somewhat last minute wedding. I had two months to pull things together, to have the September wedding I wanted. I knew the thing that was most important to me, was finding a photographer who would not just take pictures, but who would pour their heart into our special day. I saw a friends wedding album online, photographed by Tracy, and was enamored. I needed her to be my photographer. The photos I were looking at were not just photos. They were living memories, breathtaking moments that could only be captured by someone special behind the lens.
We were happy to find how easy Tracy was to deal with, how down to earth she was. We felt like instead of hiring a service, we were gaining a new buddy. Our engagement shoot reinforced that feeling. Tracy made us feel relaxed and happy, which came through in our photos. She made it clear she would do anything to get the right shot, even getting down on the ground in the dirt.
At our wedding, Tracy captured the pure love that was between my husband and I, and the love we had for our unborn daughter. I felt beautiful in every picture she took.
Everyone at our wedding commented on how she was different from some obtrusive photographers they have seen at weddings. She never pressured anyone, and all our pictures reflect relaxed smiles that are a product of a passionate photographer. I look through my pictures often, and am so absolutely, 100% satisfied with them. There's nothing that's missing.
She listened to the things that were important to me to have captured, and captured them exquisitely.
Bottom line. If you are looking for a photographer who is humble, attentive, professional, fun, relaxed, and fantastic, hire Tracy!"
Boston Wedding Photographer 5 Star Review
"It was really important to us for our wedding to be an opportunity to celebrate the talents and passions of our friends and family. While Tracy wasn't initially a 'friend' (I was first introduced to her via her yoga photography at which she also excels!) it felt as though she was a natural part of our inner circle-- she put my husband and I at ease when our wedding planning anxieties ran high and she exhibited the utmost patience and understanding when we were distracted with other items on our monstrous to-do list. Tracy is so grounded in her work and her spirit is contagious (which is helpful when it comes to awkward posing :) Most importantly, by capturing the true sentiments of our wedding day she gave us an everlasting gift."
Read More Reviews: http://www.weddingwire.com/reviews/tracy-rodriguez-photography-dedham/12cfbf88af99fba1.html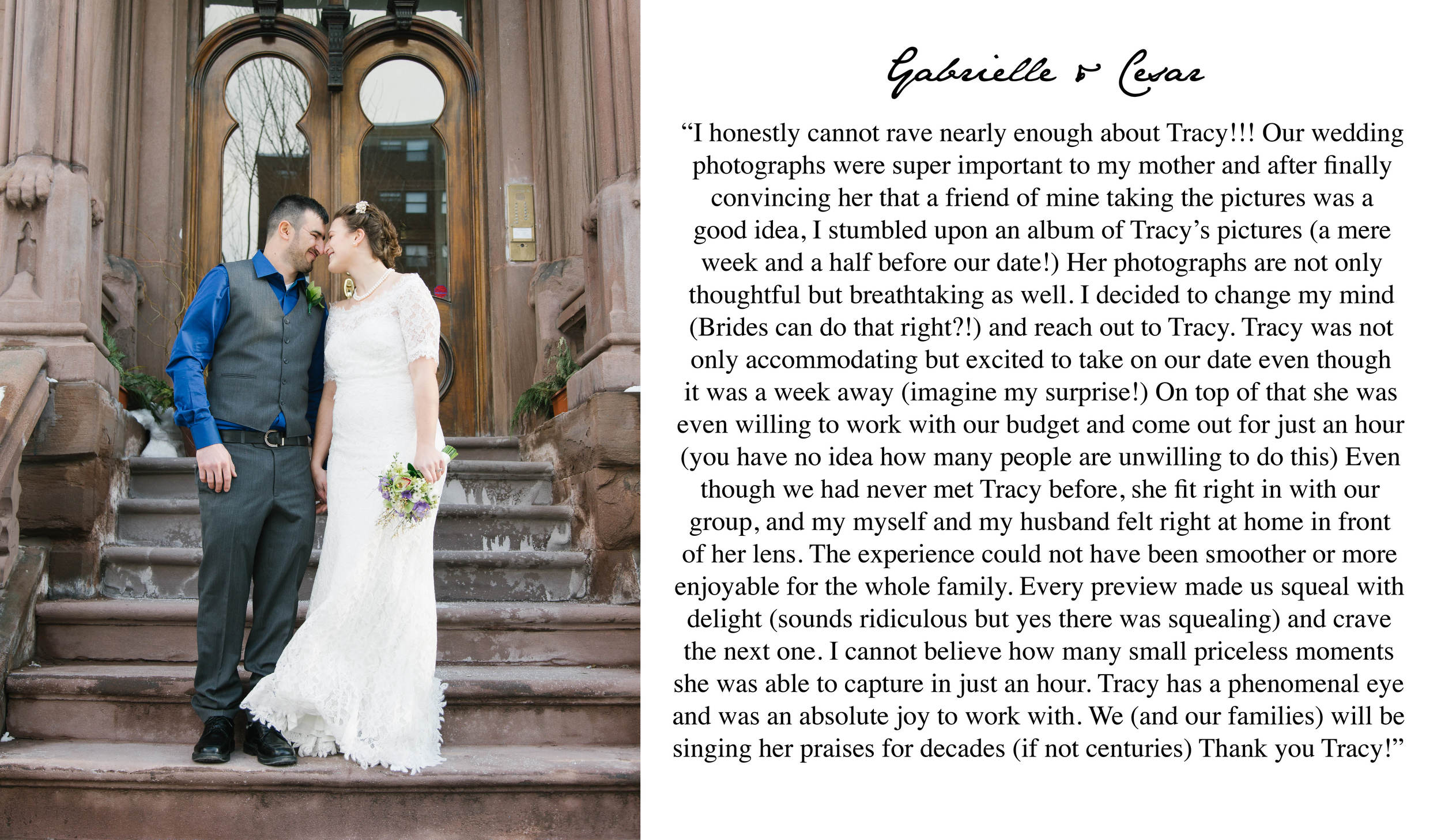 Boston Wedding Photographer 5 Star Review
"I honestly cannot rave nearly enough about Tracy!!! Our wedding photographs were super important to my mother and after finally convincing her that a friend of mine taking the pictures was a good idea, I stumbled upon an album of Tracy's pictures (a mere week and a half before our date!) Her photographs are not only thoughtful but breathtaking as well. I decided to change my mind (Brides can do that right?!) and reach out to Tracy. Tracy was not only accommodating but excited to take on our date even though it was a week away (imagine my surprise!) On top of that she was even willing to work with our budget and come out for just an hour (you have no idea how many people are unwilling to do this) Even though we had never met Tracy before, she fit right in with our group, and my myself and my husband felt right at home in front of her lens. The experience could not have been smoother or more enjoyable for the whole family. Every preview made us squeal with delight (sounds ridiculous but yes there was squealing) and crave the next one. I cannot believe how many small priceless moments she was able to capture in just an hour. Tracy has a phenomenal eye and was an absolute joy to work with. We (and our families) will be singing her praises for decades (if not centuries) Thank you Tracy!"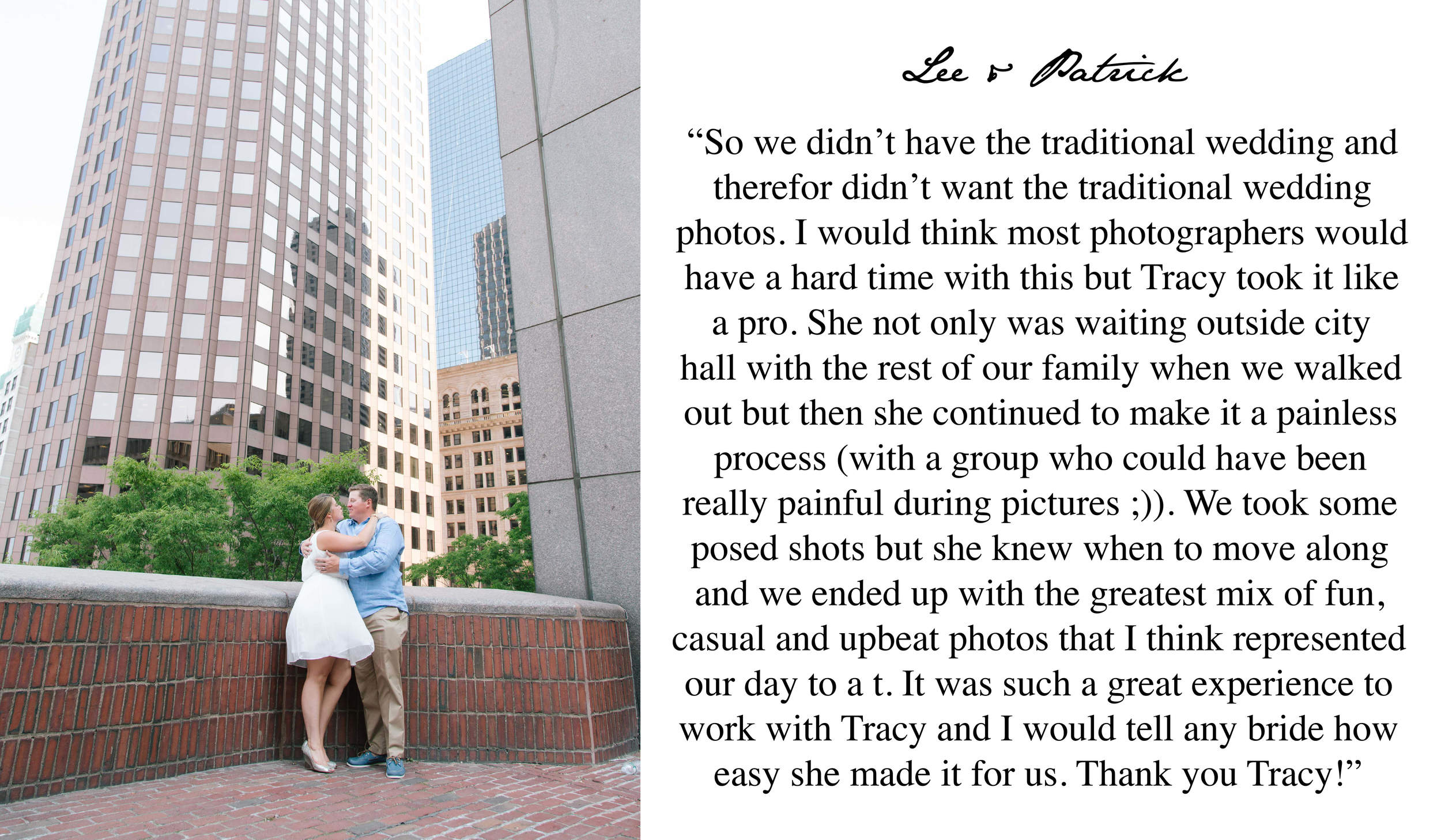 Boston Wedding Photographer 5 Star Review
"So we didn't have the traditional wedding and therefor didn't want the traditional wedding photos. I would think most photographers would have a hard time with this but Tracy took it like a pro. She not only was waiting outside city hall with the rest of our family when we walked out but then she continued to make it a painless process (with a group who could have been really painful during pictures ;)). We took some posed shots but she knew when to move along and we ended up with the greatest mix of fun, casual and upbeat photos that I think represented our day to a t. It was such a great experience to work with Tracy and I would tell any bride how easy she made it for us. Thank you Tracy!"
Boston Wedding Photographer - 5 Star Review
"Tracy was extremely accommodating and responsive! We planned a small wedding on short notice, and she still treated us as if we had all the glamour of a full-scale ceremony and reception. She took the smallest details and brought out the very best in every shot. We received our photos quickly and loved them all!"
Read More on Wedding Wire: weddingwire.com/biz/tracy-rodriguez-photography-dedham/12cfbf88af99fba1.html
Boston Wedding Photographer 5 Star Review
"Our experience with Tracy was amazing. She captured all of the portraits we requested in a beautiful way. Tracy was professional and did a fantastic job getting the photos we wanted while allowing our loved ones time to capture theirs. We received our engagement and wedding photos earlier than expected and loved all of them! We would highly recommend Tracy for any wedding and are so happy we chose her!"
Read more reviews: weddingwire.com/biz/tracy-rodriguez-photography-dedham/12cfbf88af99fba1.html
Boston Wedding Photographer 5 Star Review
"Tracy took our engagement photos in Boston this fall. We gave her a very tall order when we requested that they be taken at the very busy and highly trafficked Boston Public Gardens but she welcomed the challenge. My fiance and I were both very nervous leading up to the shoot. Neither one of us particularly enjoy having our photo taken- and the prospect of acting romantic in a public place was rather daunting. Luckily Tracy is just about the sweetest person you will ever meet. She was so encouraging, gave us great feedback and pose suggestions and made us feel completely at ease. You can really tell she loves what she does and, what may be the most important quality in a wedding photographer, she truly loves love. I'm sure other couples would agree that she is so ecstatic to work with people who have happily found the other half and is honored to be able to capture them on film. By the end of the session all we could talk about was what a great time we had had.
Tracy was very flexible with all of our requests and got our incredible photos back to us very quickly. We were hoping we would get one great shot to use for our Save the Dates but we ended up with so many favorites we are not sure how we will possibly choose! What a great problem to have! Tracy's services WILL NOT disappoint you and you may even end up with a new friend at the end of it all."
Boston Wedding Photographer 5 Star Review
"There are so many wonderful things to say about Tracy. I was fortunate enough to have her photograph two of my wedding events; my mehndi ceremony and my rehearsal dinner. Tracy has a way of stealing the hearts of everyone in the room with just her presence which makes every one feel at ease. She is extremely unobtrusive when doing her work - she captures the great shots without you even knowing. She has a keen eye to capture individuals in the most natural way and shoots detail shots with perfection. We love Tracy and know she will absolutely be involved in more of our family's special occasions."
Boston Wedding Photographer 5 Star Review
"I met Tracy at our yoga teacher training where she shared with our cohort her warmth and passion from day one. In the last weeks of training, she brought in her camera and took photos of our group, of the action throughout the days, and of individual yogis posing against a brick wall. These were casual shots, but many of them are still prominently featured in our yoga portfolios today. Tracy is like that; she emanates an ease and joy as she captures that ease and joy in others.
When I got engaged to my sweetheart, Tom, four years later, I was so excited to have Tracy capture our engagement photos. Since our teacher training, she left her corporate job to pursue her photography passion professionally and every photo she posted was coming out gorgeous!
I am so thrilled that we chose to work with Tracy. It is hard to describe how I feel when I look at our engagement photos. They capture the lush surroundings of the setting - Larz Anderson Park in Brookline,and they capture everything I was feeling that day. I purposely had the photos taken on my birthday and I was wearing a brand new dress and shoes and posing with my amazing partner in crime. It was a terrific day as it was, and Tracy added to our joy by chasing every last drop of sunlight, nailing poses I wanted (us holding balloons - she even brought extra tape to stage them in case of emergency), and keeping us smiling!
If you are looking for a photographer here is what Tracy delivers:
-Responsiveness
-Expertise
-Great balance of suggesting options and allowing the couple to design the experience
-Professionalism
-High quality output. We have 150 photos from the shoot to choose from. Everyone that sees our pictures comments on how wonderful they are. And I couldn't agree more."
5 Star Review - Boston Wedding Photographer
"We would not have chosen anyone else to phtograph our wedding. Tracy was able to capture all of our most memorable and special moments. Tracy has become a part of our family! Tracy will be our go to photographer in the future! We couldn't have been happier. The Macdonald Family!"
Read on Wedding Wire: weddingwire.com/biz/tracy-rodriguez-photography-dedham/12cfbf88af99fba1.html
Kind Words